In a sentence: delicious Ethiopian food in a relaxed, music-centric atmosphere
The damage: $30pp with a beer
Top tip: eat with your hands and plan your visit around a live gig
#EatCuriously: order you kitfo raw, the traditional way
Quench your thirst: with an Ethiopian beer
If you like this: try The Abyssinian in Kensington, The Horn in Collingwood, Little Africa in West Melbourne and Gojo Ethiopian Cafe in Sunshine
Eating with your hands is common for cultures the world over. I've done it in Morocco, Indonesia, India, Sri Lanka – and I love it. You feel more connected to what's in front of you and the people around you. And I'm convinced it tastes better.
I decided to do some research, which led me to a brilliant Reddit feed titled, Eating with your hands is superior to eating with utensils, in which someone argues that eating with your hands is practical because:
Foods' "composition is perfectly calibrated by your fingers"
And "you never have to worry about burning your tongue again"
But there's also a science to it. A study from Stevens University in New York, published in the Journal of Retailing, found that touching food enhances sensory perception, making it tastier and more satisfying. It also makes you eat more, which explains why my friend and I polished of platter advertised as being able to feed three to four people on the menu at Jambo Bar & Cafe in Footscray.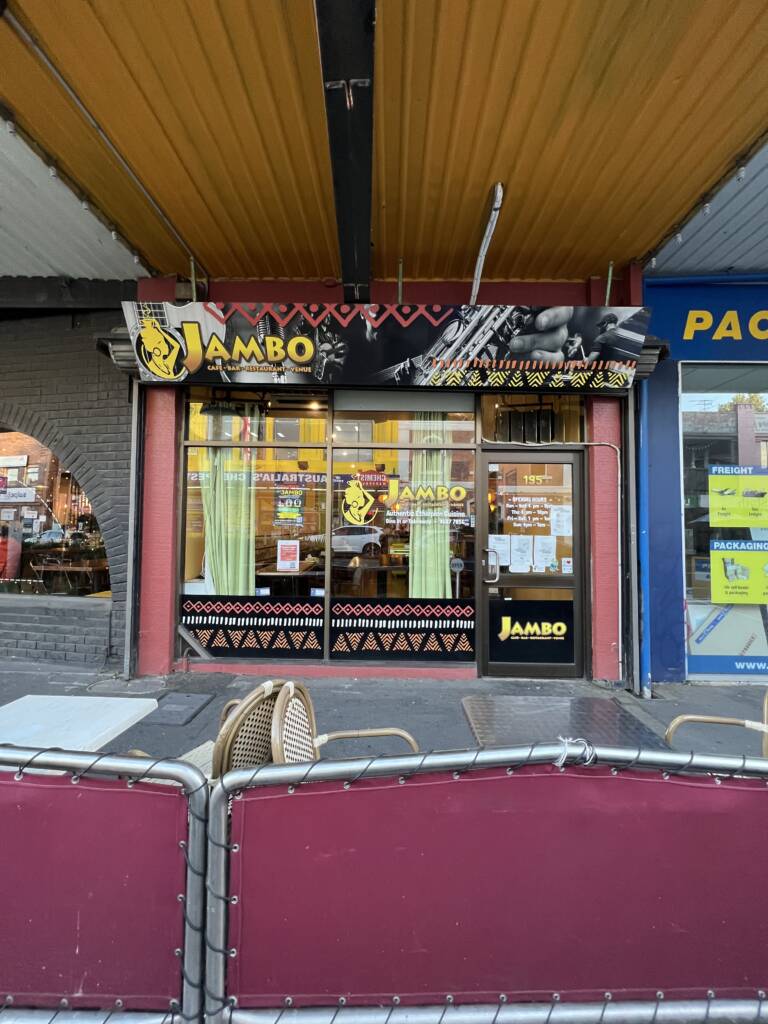 The place pops with primary colours: red, yellow and lime-green walls, plus matching lounges and bar stools. There are Ethiopian jazz prints on the walls and a traditional injera basket on the bar. The owner is connected to the local music scene and hosts Ethiopian jazz and reggae nights from the tiny stage in the window. I suggest staying up to date via their Facebook page.
Where Ethiopian eating culture differs from others that use their hands is in the communal nature of dining. Food is shared from a single platter, which is a beautiful way to connect with those you dine with and avoid waste.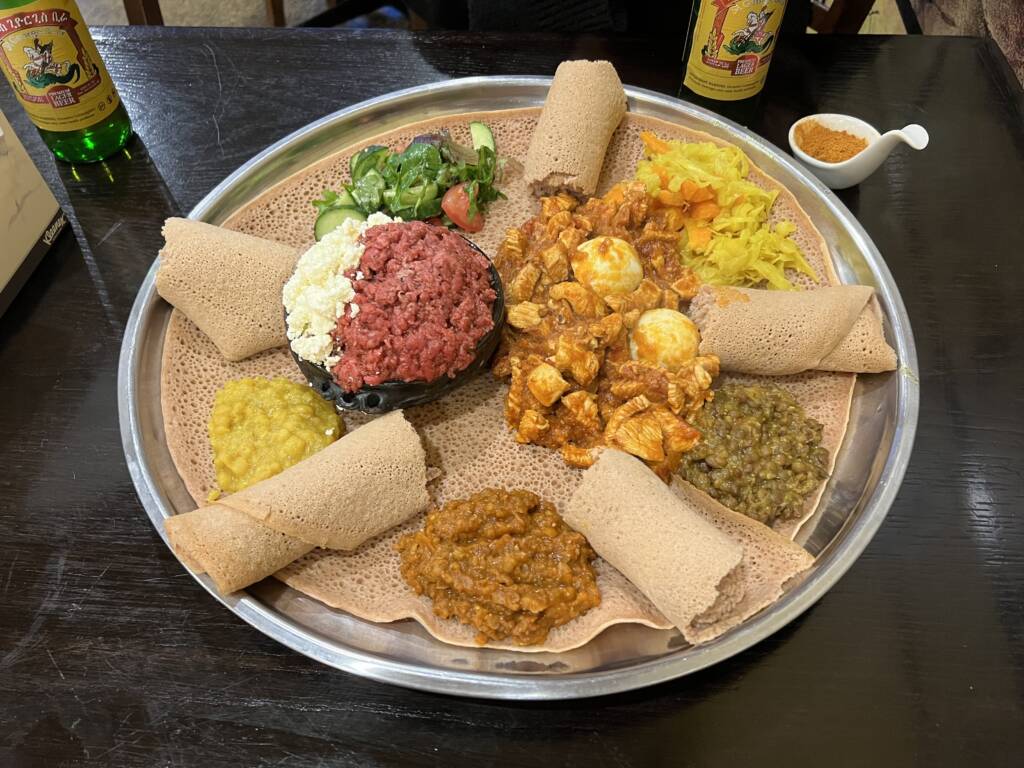 At an Ethiopian restaurant, including Jambo Bar & Cafe, you pick a number of dishes that are served on a platter blanketed with injera. Injera, by the way, is a fermented flatbread that's slightly sour and spongy, which is perfect for mopping up the accompanying dishes. It's a staple in Ethiopia and traditionally made using teff flour, which is a gluten-free grain. Ethiopian is the first cuisine I suggest to people who want to eat curiously but have dietary limitations.
At Jambo, we ordered a combo platter that's meant to have two meat dishes and five vegetable dishes for $45. When I asked the gentleman serving us which vegetable dishes we should order, he said he'd just do us all six. What came out were four with a salad, but we weren't fussed – it's all part of the laid-back Ethiopian vibe and there was still so much food.